Just a small trip from Holland to the east of Europe
Normally I plan my vacations way up front, but now I wanted to have some time for my own on the bike. My agenda was empty, my Road King Classic was ready, so I took the map of Europe and pinned a place in the west of Romania, Timisoara, as my destination for a 6 day trip. And if I wanted to see more of the eastern countries in Europe I decided to ride the route to Romania in one leg.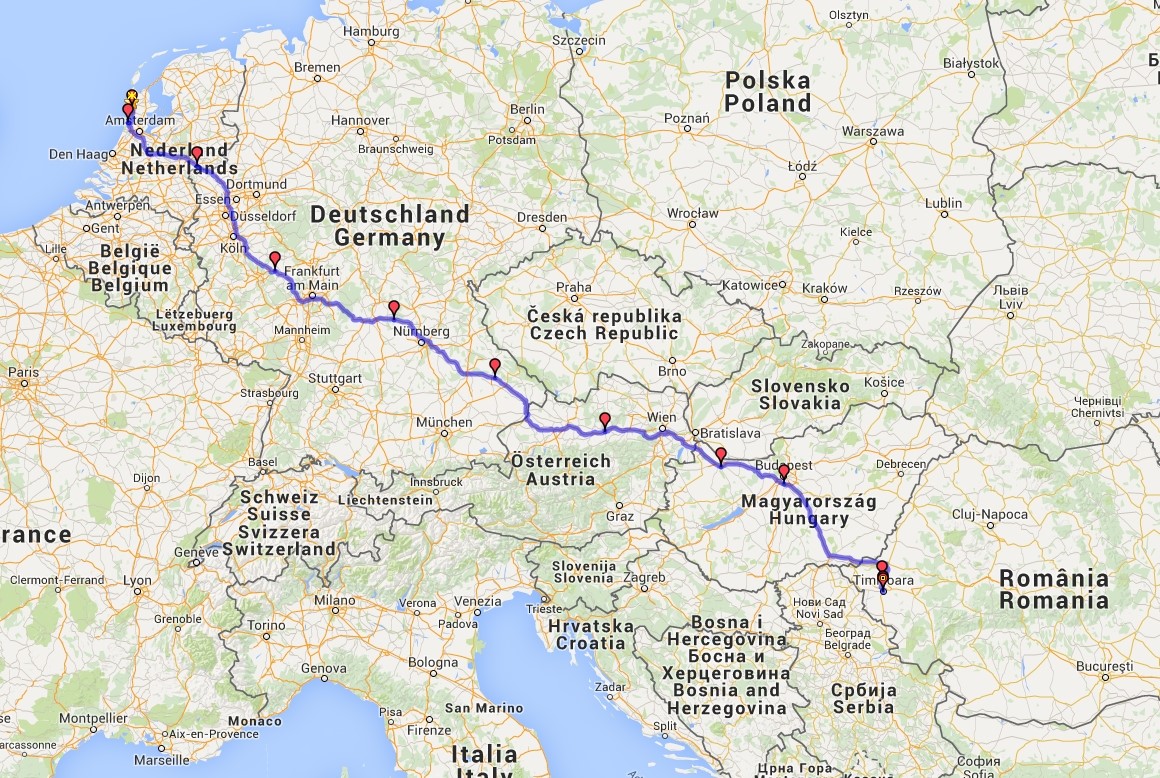 So on Monday after having a lovely cup of coffee on the beach near my house in the north of Holland, I started my bike and drove the 1750 kilometres in 20 hours. And while on the road I had some rain and even a small thunderstorm in the night. Around 11 o'clock I arrived in Timisoara, a beautiful city in the west of Romania, with magnificent squares, restored and unrestored houses and a cathedral from 1941.
The two days I rode through Serbia, Croatia and Slovenia to Italy. In the former Yugoslavia countries I did see a lot of the different countries, how the local people live and struggle to the economic growth of the regions.  In Slovenia the National Park Triglav made me happy, beautiful roads, splendid nature and nice people.
From the east of Italia I drove on the Friday from Udine via Trento to the Passo di Gavia. On the north side of the pass in Bormio I took the Passo dello Stelvio, mostly in the rain, but both passes are so beautiful I didn't mind at all. On the other side of the Stelvio I rode to the west and a couple of meters before the Swiss border I checked in in a hotel and saw how a thunderstorm with a lot of lightning made a beautiful spectacle in the sky above the mountains.
On the Saturday, my last day of this short trip, I drove right through Swiss, make short stops in Zurich and Basel at the local HD stores. After that my next stop was home, making the total for that day  1140 kilometres in 15 hours.
It was a remarkable tour, did an Iron Butt trip on my way to Romania, visit 11 countries in 6 days, made a total of 4344 kilometres, climbed from 0 to 2757 meters above sea level and drove the most scenic roads in this part of Europe.









images/2015/romania/20150814_153615.jpgimages/2015/romania/20150814_153653.jpgimages/2015/romania/20150814_165419.jpgimages/2015/romania/DSCN6003.JPGimages/2015/romania/DSCN6007.JPGimages/2015/romania/DSCN6011.JPGimages/2015/romania/DSCN6024.JPGimages/2015/romania/DSCN6027.JPGimages/2015/romania/DSCN6029.JPGimages/2015/romania/DSCN6030.JPGimages/2015/romania/DSCN6035.JPGimages/2015/romania/DSCN6042.JPGimages/2015/romania/DSCN6045.JPGimages/2015/romania/DSCN6051.JPGimages/2015/romania/GOPR3847.JPGimages/2015/romania/GOPR3847.JPG